Are You Hurt Because Of A Negligent Driver?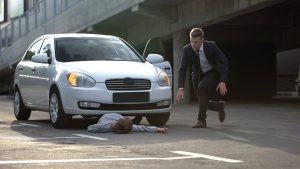 Michael Babboni

Car Accidents St. Petersburg and surrounding areas see their fair share of auto accidents. Most people don't want to be involved in incidents and go out of their way to avoid them. They practice safe driving habits, obey traffic laws, and do everything by the book. However, cautious motorists aren't the only kinds on the roads.

There are also those that like to text and drive, speed, or even get behind the wheel drunk. When negligent drivers like these hit the streets, it is not uncommon for accidents to occur. Was your vehicle struck and damaged by a reckless character? How about injuries? Did you sustain some of them too?

If the answer is yes, first, let us start by saying we're sorry. Nobody should have to go through that. Now, what about the driver's insurance company? Are they giving you the run-around and refusing to pay?

If so, insurers are notorious for such behaviors, and that should come as no surprise. Guess what?  

Contact Our Personal Injury Attorney In St. Petersburg

There is nothing cheap about going to the doctor or hospital these days. Procedures and medications seem to cost fortunes too. Why should you have to pay out of pocket and go into debt when a negligent driver is responsible for your injuries? You shouldn't, plain and simple. That could be your future if you let the insurance company take advantage of the situation, though.

Putting our personal injury attorney in St. Petersburg on your side will show the insurer that you mean business. He will build a strong case supporting your position and always make decisions based on your best interests. The initial case review is free, and you will only owe a fee if you win. It doesn't get much better than that, so go ahead and give our firm a call today. Let us take care of your legal burdens while you concentrate on recovering.

Passenger Vehicle Occupants Aren't The Only People That Negligent Drivers Can Injure

Reckless/negligent drivers can also strike pedestrians, bicyclists, and motorcyclists in Florida. These accidents can leave victims with broken bones, brain damage, and more. The point is that it doesn't matter whether you were walking, riding, or driving a vehicle when things went from bad to worst; the responsible party and their insurance company are liable for your damages. Hold them accountable by contacting our firm.

How Much Could You Win?

That isn't necessarily an easy question to answer, but we'll try. Auto accident outcomes differ from one incident to the next. A mediocre settlement could be in your future if the injuries are minor. Then again, if you are seriously hurt, the payout could be in the millions. It just depends. Various factors determine compensation amounts, including but not limited to...

• The Extent Of The Injuries
• Current And Future Lost Wages
• Medical Bills And Related Expenses
• Emotional Damages
• Pain And Suffering

How Will The Firm Prove Negligence Occurred?

Our firm will collect evidence to prove negligence occurred. The proof often comes from witness statements, police reports, or cell phone records. However, there are many other tools we can use to determine that neglect happened too. Just know that our team is here to help if ever you need us..