A Defective Product Alert For Parents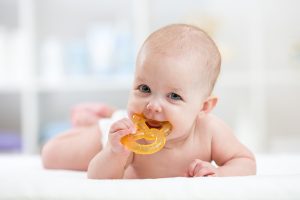 Michael Babboni

Recalls Are you the parent of a St. Petersburg infant? If so, you're going to want to pay close attention to this post. There is currently a defective product that they could have in their possession. It is the B. toys Light-Up Firefly Teether Glowy Chews – Firefly Frank, which is a plastic infant teether. Little ones are supposed to be able to soothe their gums on these units while teething. However, it is not a good idea to let them do so in this case. 



Why? Because the plastic wings can detach and pose a choking hazard, that's why. After receiving 14 complaints of wings breaking into small pieces or becoming detached and one child choking, B. toys issued a recall for approximately 61,000 of them. These teethers feature the colors green, blue, and red. When shaken, they also light up and command attention.

Where were these toys sold? That is a good question, and we have the answer. Consumers were able to purchase these China-manufactured items at Target stores nationwide. They were available online at Target.com from July 2019 to February 2021 as well. These teethers should be taken away from infants immediately to ensure catastrophe doesn't strike.

If A Wrongful Death Has Or Does Occur, Parents Might Be Entitled To Compensation

Did your infant pass away after choking on a defective product? Was the item recalled like the one mentioned above, and if so, did you not have knowledge of it, or did the problem arise before the recall was issued? If so, you might be able to file a lawsuit against the manufacturer to seek compensation. No amount of money will ever be enough to make up for what you lost. Still, it can help out with medical bills, funeral expenses, and more, though.

A personal injury attorney in St. Petersburg can help you with this process. Manufacturers are responsible for the harm that products sold on the marketplace cause, so hold the company accountable. These organizations have legal teams on retainer to fight such claims. The attorneys could give you the runaround or offer you a low-ball settlement when you take a do-it-yourself approach. Then again, they might flat out deny your claim as well.

However, when you have a personal injury attorney in St. Petersburg by your side, it will be an entirely different story. The professional and their experienced team will build a case that supports your position. It will be organized, prepared, and ready for a conference settlement and a trial. Throughout the process, the lawyer will be in touch, keeping you in the loop. There will also be plenty of chances for you to ask questions and address concerns, at least if you pick the right firm anyway.

Who Should You Choose?

Parents can't go wrong with our local St. Petersburg law firm for their wrongful death lawsuit needs. The death of a child is never an easy topic to discuss, and we get that. Thus, the matter will always be addressed with the utmost respect and compassion here, and you will be treated the same way. Michael Babboni, the St. Pete Lawyer, has been practicing law in Florida since 1987. He has the skills and experience you need to take on a manufacturer.

On a final note, our firm also has the means to take wrongful death claims the distance. Not all organizations do, so just keep that in mind when looking for an attorney in St. Petersburg. Whenever you're ready, top-notch legal representation is only a phone call away..