A Closer Look At Amusement Attraction Personal Injury Law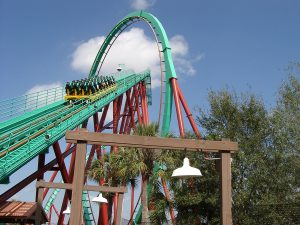 Michael Babboni

Personal Injury When most people think of Florida, a lot of things come to mind – sun, beaches, beautiful people, and more. But for many, amusement parks will certainly be on the list of things that the state is known for. From roller coasters to water slides, there are a ton of things here to see and do, and it's easy to create truly magnificent memories in the state.

But what happens if you're injured on a slide or ride? It's rare, but does happen. Over the summer of 2016 alone, a woman died in Delaware after a fall from a zip line while a ten year old boy was killed on a water park slide in Kansas. This is where things can get complicated, and understanding more about personal injury law as it relates to injuries sustained at an amusement park is something worth doing.

These kinds of accidents fall under premises liability law, which in Florida is already very complex. With these types of injuries a few things must be understood:



The inherently risky nature of thrill rides means that you're accepting some measure of that risk on your own just by riding. In short, you assume responsibility for your actions and injuries. This effectively absolves amusement parks from blame if you're injured on their rides – most of the time.


In some instances such as zip line rides or parasailing, you may actually have to sign waivers before you can even participate. This leads to additional protection for the company that operates the ride. This makes it much more difficult to seek compensation – but not always impossible.



These two points make it seem very difficult to seek compensation for personal injuries. However, there are some ways that it can be possible. In particular, it's important to understand negligence and recklessness.



An amusement park could be held liable for injuries if it can be shown that they acted in a negligent manner. For example, if ride inspections aren't done properly as required by law, if a child too short to ride a ride safely is allowed on, or if a restraint is known to be faulty but ignored, these things could be considered negligent behavior.


That kind of negligent behavior could be grounds for a legal suit because it raises the amount of risk that you're aware of. By riding rides of this nature, you accept some measure of risk. But negligent actions increase risk beyond what you would be able to reasonably assume.


Proving that you're owed compensation can be incredibly difficult due to the fact that you'll have to do so while a legal team is working to discredit you. Insurance companies and the legal teams of an amusement ride or amusement park will be aggressive, and only a skilled personal injury lawyer will be able to effectively stand up to them.



The bottom line in all of this is simple – being injured at an amusement park or on an amusement ride doesn't mean that you have to shoulder the burden of costs by yourself. If certain factors are present, it's possible to seek compensation for your injuries. Our team can help you do just that. We have nearly 30 years' experience in personal injury law in Florida, and are conveniently located in downtown St Petersburg to make it easy for you to find us when you need us. Don't hesitate to contact us today to find out more about your rights and what kind of steps you may be able to take to get financial restitution for your injuries..