Bicycle Accident Lawyer St Petersburg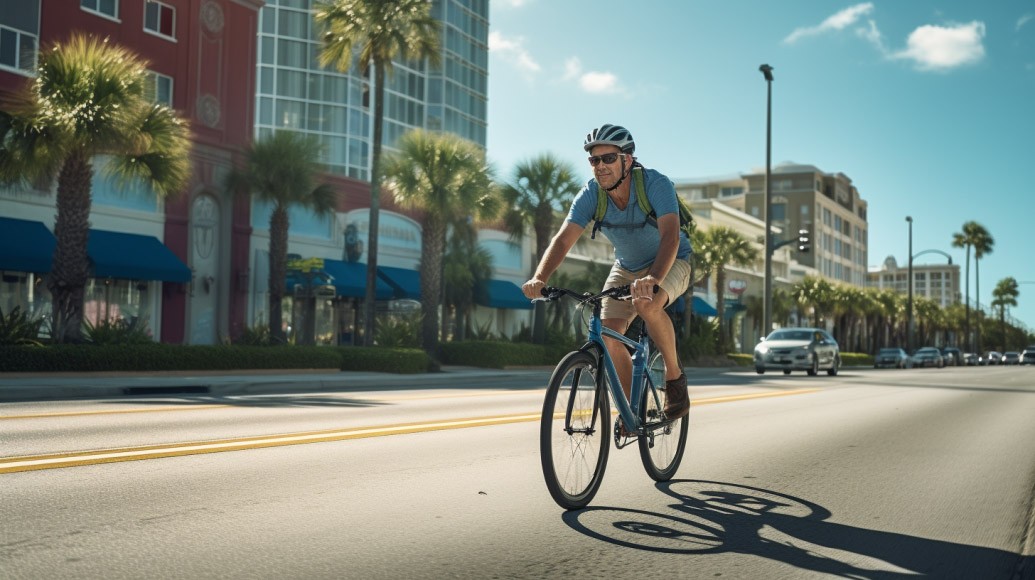 Bicycle accidents are tragically common in Florida, a state that unfortunately leads the nation in bicycle-related fatalities. Between January 1, 2023, and June 2, 2023, there have already been 3,442 bicycle accidents in Florida, resulting in 87 tragic deaths. In recent years, Saint Petersburg's scenic beauty has been overshadowed by alarming bicycle accident statistics. In 2021, this city was unfortunately labeled the most dangerous in America for bicyclists.
The Saint Petersburg area statistics of 2021 paint a clear picture: out of 389 total bicycle crashes, 16 were fatal, and 62 led to severe injuries. To put this into perspective, these figures account for an alarming 8.6% of Florida's total bicycle fatalities, even though St. Petersburg's population represents a mere 1.2% of the state. This data reveals that the peak times for these accidents are during rush hours and late evenings. Most notably, Wednesdays and Thursdays emerged as the riskiest days, with October and May being the most hazardous months for bicyclists here in Saint Petersburg. These patterns suggest the primary bicycle accident victims are local commuters, rather than tourists. Impressively, the younger generation displayed more caution, with individuals aged 19 and below facing only seven serious injuries and zero fatalities in 2021.
Furthermore, the risks concentrate around specific regions in the city here in Saint Petersburg. The areas of concern include intersections at 34th St./US-19, particularly between 5th Ave. S and Fairfield Ave, and the junctions of 4th St./US-92 with both 5th Ave. N and 4th Ave. S. The absence of dedicated bikeways and painted bike lanes at these hotspots further exacerbates the danger, pushing bicyclists to share the road with fast-moving vehicles.
While cycling offers an eco-friendly alternative to traditional transportation, it also exposes riders to significant risks in the Saint Petersburg area, especially when sharing the road with motor vehicles. Many people are actually going to and from work on their bicycles and when an accident occurs it can totally devastate their lives. If you or a loved one has experienced a bicycle accident, it's crucial to understand your legal rights and the potential avenues for compensation.
Michael Babboni, a distinguished Saint Petersburg bicycle accident attorney, recognizes the inherent risks that cyclists and pedestrians face daily in Saint Petersburg, Florida. One significant hazard is poor lighting, a problem particularly prevalent in low-income and minority neighborhoods. These areas often witness higher dependencies on walking and biking, making proper illumination paramount. Contrastingly, downtown St. Pete has recorded fewer severe injuries and fatalities, attributed largely to its walkability and the cautious driving prompted by its slower speeds.
The aftermath of a bicycle accident can be exhausting, but with Michael Babboni by your side, you're not alone. As a top bicycle accident attorney in the Saint Petersburg area for over 30 years, Michael Babboni has been tirelessly defending the rights of cyclists and ensuring they receive the justice and compensation they rightly deserve. His unparalleled dedication to justice in the realm of bicycle accident law has led him to assist countless individuals throughout Saint Petersburg, guiding them through the challenges they face post-accident and ensuring optimal compensation for their injuries.
Dealing with the repercussions of an accident, be it mounting medical bills, lost income, or emotional distress, requires the unwavering support of a top attorney who specializes in bicycle accident law. Michael Babboni and his dedicated team are committed to understanding the intricacies of bicycle accident cases and are centrally located in Saint Petersburg to offer guidance every step of the way. Your rights and well-being should never be compromised. Trust in the expertise and dedication of Michael Babboni, an excellent attorney in the Saint Petersburg legal community, and allow him to champion your cause, fighting for the justice and compensation you truly deserve.
More Information On Bicycle Accidents In St Petersburg Florida
Highly Dangerous and Fatal Areas for Cyclists In Saint Petersburg Include:
66th Street and Park Boulevard across from the Publix Supermarket in Saint Petersburg.
Gulf-to-Bay Boulevard
South Belcher Road in Clearwater
Park Boulevard and Starkey Road
66th Street and Ulmerton Road